The kitchen is the family hub spot, and if you have multiple people getting things out and putting things back, it can be a recipe for disaster.
Can you find what you are looking for in your kitchen? Is meal preparation a breeze?  If not, it might be time to create efficiency in your kitchen with our 10 tips to declutter and organize your kitchen and 10 product solutions to help you contain and organize everything in your kitchen.
3 Common Kitchen Organization Problems
Mail and other incoming paper lands on the kitchen counter or table.
Cabinets and pantry are stuffed; new items land on the kitchen counter.
Items are placed where there is an open spot in cabinets and drawers without thought to the activity it pertains to.
10 Tips to Declutter and Organize Your Kitchen
Follow my 5 Steps to Organizing® to organize your kitchen and pantry
To help sort your pantry, look at expiration dates and purge all expired food, including spices. Toss anything that hasn't been used in a very long time.
As pantry items are used, get in the habit of checking expiration dates. If something is getting close to expiring, add it to a grocery list.
Group all baking supplies and materials together and create a baking zone in the kitchen.
Be realistic about how many coffee mugs, travel cups/mugs, plastic drinking bottles, and plastic containers are needed.

Rule of thumb – 2 mugs, drinking bottles per person; only enough plastic containers for one week of leftovers
Ditch any containers that don't have a corresponding lid or bottom

Relocate infrequently used small appliances, kitchen equipment, and entertaining items to a storage room, pantry, closet, or garage to free up prime real estate in the kitchen for what is used regularly.
Let go of any cookbook, gadget, small appliance, or dishware, that has not been used in the past year.
Toss the recipes that haven't been used in a year and put favorites in sheet protectors in a binder.
Use apps and websites for accessing recipes digitally.
Create zones in your based on the activities you do in your kitchen.
4 Primary Kitchen Zones Based On Kitchen Activities
Food storage – perishable (refrigerator/freezer) and nonperishable (pantry/cabinet)
Food preparation – usually near the sink or stovetop
Consuming food – kitchen table or island
Cleaning up – sink/dishwasher
10 Product Solutions to Help Contain and Organize Your Kitchen Items
Example of a zoned pantry with suggested products
Bottles/Condiments – contained on turntables making it easier to access the items at the back of a high shelf.
Beverages (left) Spreads (right)
Canned foods – contained on stair-step shelves to maximize the space and easier access.
Seasoning Packets (left) Snacks/Juices for kids (right) – contained in size appropriate  baskets/bins
Root vegetables – contained in natural fiber baskets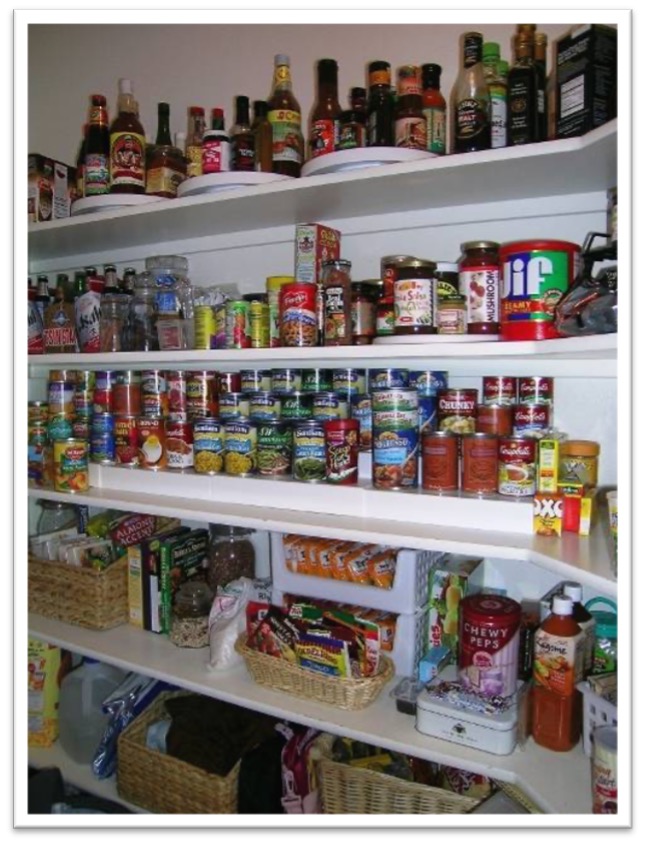 Keep Your Kitchen and Pantry Organized
Daily – keep the zones intact
Daily – clear countertops of items that don't belong in the kitchen
Daily – clean and put away dishes, etc.
Weekly – clean out refrigerator and pantry of expired foods
Semi-annually – re-evaluate the zones and adjust accordingly