Happy New Year!
I hope you and your family have had a lovely holiday season, including some rest time.
It's hard to believe, but January 17, 2023, marks my twenty years in business. Isn't it amazing how the years can fly by?
Not only is it a big business anniversary, but I've also decided this is my year of semi-retirement (because I love my clients and career too much to retire fully!). I will be shifting my focus to virtual organizing, so please know that I'm still available if you need me.
I've been reflecting a lot recently, and I feel incredibly grateful for my varied career and the friendships I've made.
Many of those friendships came from beginning my membership in the National Association of Productivity and Organizing Professionals (NAPO) in 2003. I've maintained my membership ever since and took their inaugural exam to achieve my Certified Professional Organizer® (CPO) title in 2007.
In 2004, I began my subscribership with the Institute for Challenging Disorganization (ICD) and started my journey into specializing my services to serve my clients better.
My clients, students, colleagues, and family continually inspire me. In a career that has included downturns, young children, empty nesting, and a global pandemic, one thing has remained constant — strong connections with amazing people.
Thank you for sharing this journey with me, and I hope you'll enjoy some of the highlights I share below of the past twenty years.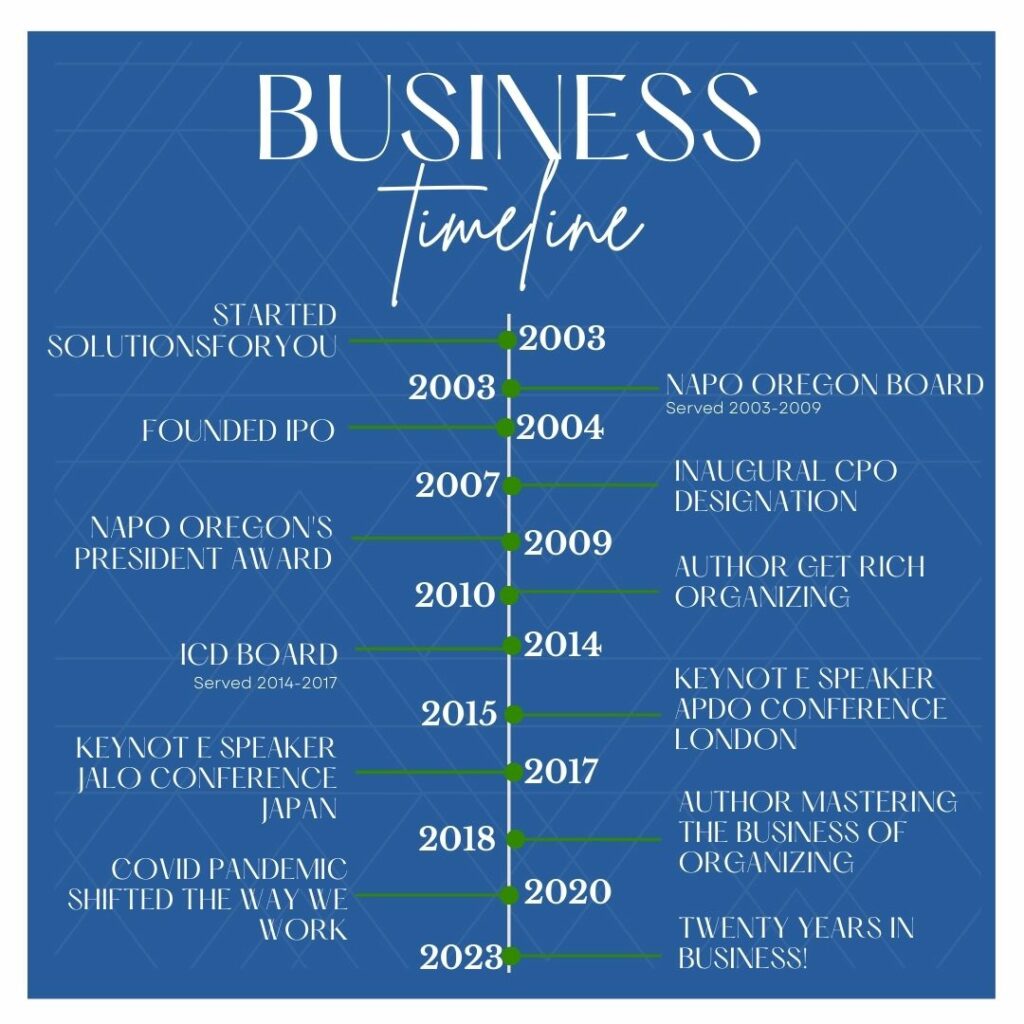 ---
An Attitude of Gratitude
Things I'm Grateful For
●      My husband, Stefan, and our two children, Alex and Hannah, whose support made all of this possible
●      My wonderful clients and students – you've kept me going!
●      My fantastic team (Katie, Casey, and Melissa) who made the work richer and lighter
●      Incredible colleagues that feel like family
●      An industry and profession that feels like home
---
My Business Fun Facts
●      Attended 22 conferences all over the nation
– as well as presented at conferences in Canada (POC), Japan (JALO), and London (APDO)
●      Completed over 325 continuing education hours
●      537 (and counting) incredible clients
●      Longest project: over 400 hours
●      453 (and counting) inspiring students
---
Don't worry; I'm still here!
Remember, this is semi-retirement! 😄 I'm still available for virtual organizing.
And I would gratefully appreciate you keeping the Institute for Professional Organizers in mind if you ever know someone curious about what it takes to become a professional organizer.