Get Your Child Organized for College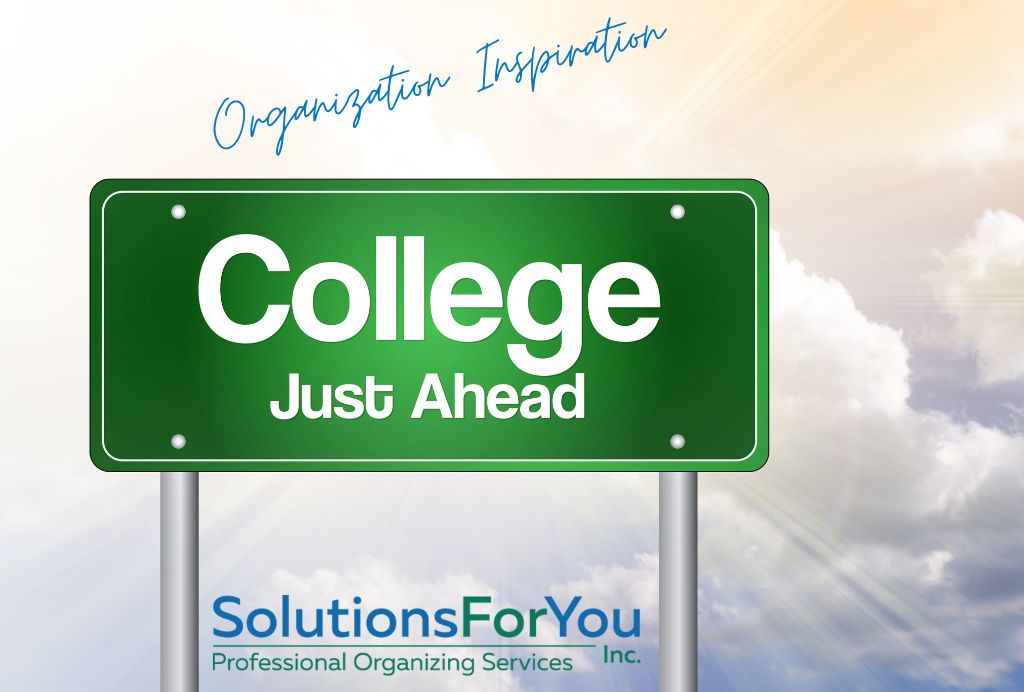 One of the proudest moments of my life occurred when my two children graduated from college.  Alex graduated from Cal Poly San Luis Obispo/Architecture and Hannah from the University of Oregon/Linguistics.  It was a bit nerve-racking to get from San Luis Obispo to Eugene to attend both ceremonies within 24 hours of each other.  And, their first days of getting settled at college were filled with turmoil (at least for me).  I hope by sharing some of my learnings, getting your child organized for college will be easy breezy.
Your child has been accepted into college. Wow, what a milestone. Congratulations! Now comes the transition from home to a dorm room and independence for your college-bound son or daughter. While there can be an abundance of emotions around this big change for the entire family, the stress can be minimized by organization. Coordinating these tasks together with your "grown-up trainee" will teach them some useful life skills about organizing and being prepared. Taking care of all the details will help launch your college-bound youngster smoothly and create a foundation for them to thrive at school.
Furnishings
If you have an opportunity to visit the college dorm, great. If that visit is not in the cards due to distance or for whatever reason, be resourceful: Check for photos online, talk with other students from the same school, or inquire directly with the college or university. The school may even provide its own list of dos and don'ts for dorm rooms. Is there a mini-fridge in the room? What about a small coffee maker? Are hangers provided or do students need to bring their own? Is there a microwave or basic bedding available? What about a desk lamp and a flashlight? Most dormitory rooms are pretty bare-bones with basic single beds, desks, and closets. Do your homework and support your student in being prepared with everything they will need to be comfortable. Don't forget that special blanket and a photo of the family for those possible lonely moments when they are missing home.
Books
Again, do your research to learn what textbooks your student will need for all the classes in the first term or semester. The books should be available at the college bookstore, but they do occasionally run out of stock. They may also be found on Amazon or other book suppliers, possibly even at a lesser price. Amazon rents textbooks and will buy back used books when no longer needed. Your child's new school should have the relevant textbooks listed on their website, likely under the Registrar's office section.
Clothing
Does your son or daughter have the appropriate garments for the weather where their new school is located? If your family is from a warm climate area, your child may be blown away by their first Midwest winter. Make sure coats, umbrellas, and even boots are at the ready when winter comes. Does the college have a pool? Make sure your child has a swimsuit to take advantage of that amenity. While your Gen Z student may elect only to take the most casual garments in their wardrobe, you might suggest diversifying a bit. Jeans and hoodies are undoubtedly comfortable, but by adding a few dressier items and a professional outfit or two, they will be prepared for any event.
Healthy Foods
Does your son or daughter have any special dietary restrictions? If so, make sure they are stocked with healthy snacks that fit those needs. And they should know where to procure those treats on campus or nearby. It is a good idea to have your child alert their roommate about any food allergies or food issues, so they do not accidentally ingest the wrong foods. If your child takes any medications, make sure they have a sufficient supply on hand and that the roomie is aware of these, as well.
Finances
College tuition is a stretch for many families, so having a frank and honest chat with your child about budgetary parameters is wise. Be clear about what their monthly spending allowance will be and how that will be handled. Is that money from their summer job at the ready for extra spending money? If scholarships are involved, review any stipulations around that help, so everyone is on the same page.
Transportation
Whether it is navigating the expanse of their new campus environment or the surrounding area, how will your child get around? Will they have a bus pass, a bike, a skateboard, or their car? Whatever their mode of transport, make sure it is in good working order, the license is current and that it is acceptable at their chosen school.
Miscellaneous
Printed calendars may seem old school to your big kid, but they can create a visual sense of organization. Spring for a large desk calendar or an erasable whiteboard calendar for the wall and a portable notebook-sized one, too. Urge your new college student to track assignment due dates and pace themselves on projects. Many professors reduce grades for late assignments. Have your child add school holidays, trips back home, and parent visits to their calendars so that they can look forward to those breaks.
Another unused item is a battery-operated alarm clock. Ask them to set it for those early wake-ups and place it across the room. That way, they will have to get out of bed to turn it off and have a stronger likelihood of making it to class on time.
Help your child with all the study area supplies they may need and support them in organizing those items with fun cups for pens and pencils, crates for files, etc. The Container Store and Dollar Tree Stores are great places to shop for these items.
Having everything organized will help curtail feelings of apprehension you or your child may have. If you decide this task is too overwhelming, the trio of experts at SolutionsForYou are ready to lend a hand. No organization project is too big or too small for us to handle.