How to Overhaul Your Garage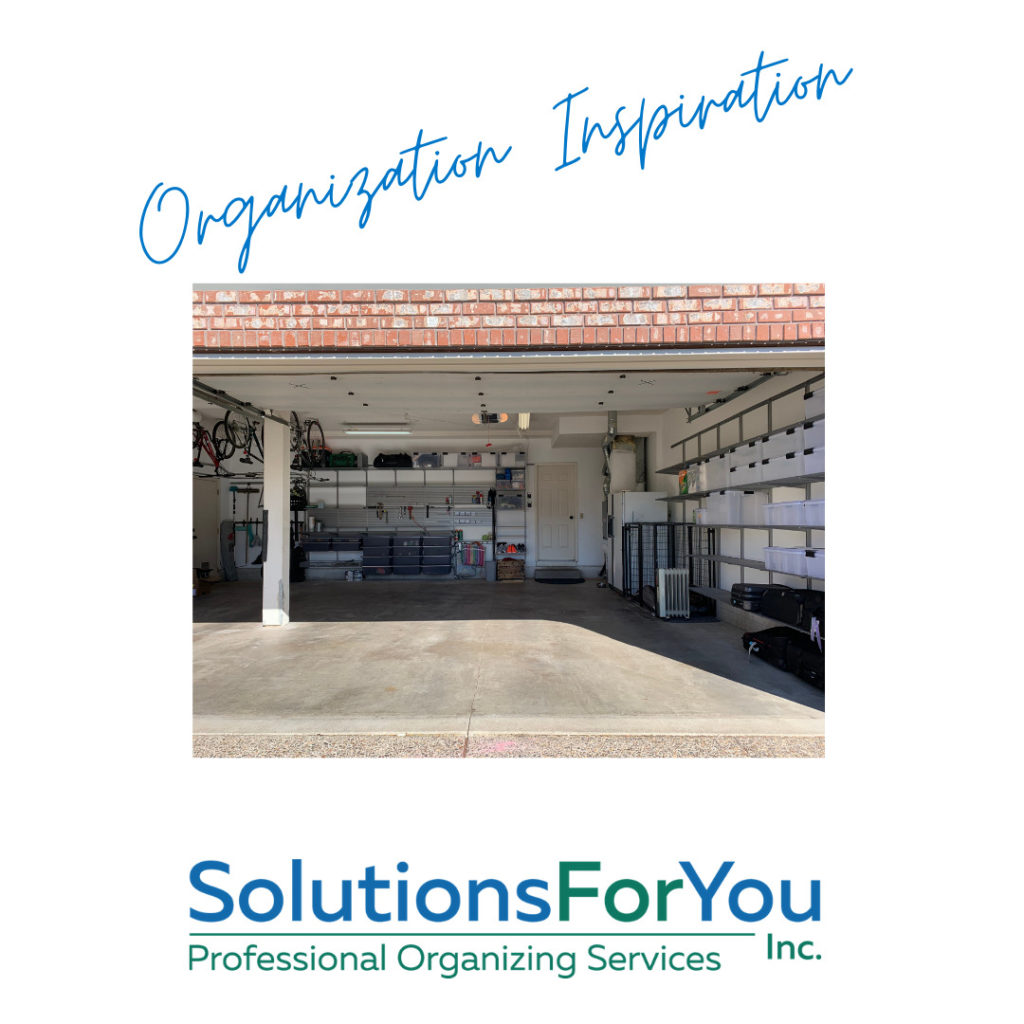 Garages are often filled with items the homeowner no longer wants inside their home but just can't quite let go of yet.
You may be wondering, what are the benefits of an organized garage?  Here are my top five benefits for organizing your garage:
#1 You can park your vehicles in your garage!  It's incomprehensible how much money people spend to purchase a vehicle and then park it outside the garage.  And what is stored in the garage is mostly worthless.
#2 You will easily and quickly be able to find what you are looking for.
#3 You will save money because you know what you have and can locate it, avoiding repurchasing something you already have but can't find.
#4 If you plan on selling your home, it will sell faster and at a higher price if your garage is organized and the buyer can visualize their vehicle(s) parked inside.
#5 When you come home and open your garage door, the sight of the garage will no longer cause you stress.
You may be thinking, the task seems overwhelming, and where do you begin?  You can start in one area, but you eventually want to clear everything out.  Here's how to plan your project:
Set aside an entire weekend – schedule on your calendar.
Get help from family, friends, or a professional organizer.
Schedule a donation service to pick up your donations after the weekend.
Gather Materials

Garbage bags and a dumpster or a bagster for your mountain of discards that cannot be donated.
Tent canopy to set up in your driveway or yard to keep you shaded or dry during the process, or a Portable On Demand Storage unit PODS.  The benefit of a PODS is you can lock it up at the end of the day.
Several folding tables to set up under the canopy for sorting.
Lots of boxes for sorting items you want to keep and labeled by category.

Identify the different categories of things you want to keep in your garage, i.e., sports equipment, tools, gardening, household utility, automotive, camping, holiday, etc.
Set up your staging area (either under a canopy or in a PODS)

Keep Area – sorting tables and boxes labeled by category.
Donate Area – place a tarp on the ground to designate this area.
Trash Area – dumpster
You may struggle with deciding what to keep. 
It basically comes down to a question of, "do you need it now?"  Meaning, will you use it within the next year?  Many items end up in the garage with the idea of "I'll need it someday" or "I should keep it just in case."  Many of those items can easily be replaced or, better yet, borrowed from a neighbor, friend, or family member.
If you hear yourself saying, "I might need it someday" or "I need to keep it just in case," you more than likely don't need to keep it.  If something is broken and needs repair and you haven't repaired it for years, you probably won't fix it.  If you are never going to use it again (your high school tennis racquet), it's time to let it go.
If you find you have many items to sell or donate, here are a few of our favorite resources:
Now it's time to put everything back; here's the best approach to organizing your garage:
Sweep out the garage before placing items back.
Install uniform shelving and bins to fit each shelf area to maximize the space – I recommend elfa shelving because it is easy to install and reconfigure as your needs change.
Designate zones in your garage as they relate to each category (sports equipment, tools, gardening, household utility, automotive, camping, holiday, etc.) and where you will be able to access items easily.  For example, sports equipment and gardening tools should be placed close to the garage door since you will be taking those items out of the garage to use.
Designate shelves for each category to keep categories from getting mixed up.
Place items in containers (like with like) and label – these are my favorite garage containers because they are clear, weathertight, and stack uniformly.
Once your garage is organized, you will want to keep it organized.  Practice new habits, such as:
Put things away where they belong immediately after you use them.
Keep zones intact, so you can easily find things when you need them.
Don't put something in the garage to decide what to do with it later—decide now.
Designate a Donation Zone in the garage and a donation container for items you no longer want.  When the container is full, take it to a donation center, donate the items, and return the container to your garage for future donations.
Once a year, go through the garage zones and eliminate anything you haven't used in the past year.