Organization Tips for the "Kitchen Challenged"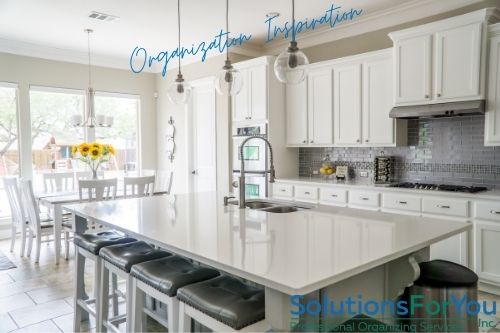 If you are not one of those people who cannot wait to try out a new recipe, you know the type, a Julia Childs wannabe, then this blog is meant for you. In our circle of friends, there are the cooks, and then there are the "kitchen-challenged." Often those in the latter category love to eat but hate to cook. So, let's get to work making your kitchen a user-friendly environment.
Tupperware & Containers
In many kitchens, these items are often a jumbled mess. The most accessible storage approach is to stow them with their lids on. This will avoid the frustration of trying to match them up. Stack similar sizes together to conserve space. Discard the orphaned containers and lids.
Junk Drawers
Every kitchen has one. That catchall drawer filled with notepads, pens, paperclips, flashlights, and who knows what all, where you can't find anything when you need it, is a disaster. Small trays or dividers from Dollar Tree or The Container Store can resolve this issue and have all those miscellaneous items at the ready.
Silverware, Knives & More
Target and similar stores carry wooden trays for flatware, which work well to keep order in the drawers. Knives can be fed into a stand-up woodblock or stored in a separate drawer lined with rubber mats. Wooden spoons, tongs, and spatulas are often best kept in a countertop basket or jar next to the stove for quick use.
Under the Sink
This is another kitchen area often in disarray, which can be easily remedied by placing the cleaning supplies in a shallow box or slide-out tray. The scrub brushes, sponges, and the like can be effectively stored in a plastic over the door gadget on the inside of the cupboard door.
Pots & Pans
Metal pull out shelving installed in under the counter cupboards are amazingly useful to store every size pot and lid. But they can be costly. An alternative is to purchase plastic stand-up dividers (rather like office file folder dividers) for the lids, pie tins and cookie sheets. The pots can then be stacked by size.
Too Many Dishes
If plates and other dishes are stacked too high, they are hard to access and vulnerable to breakage. To maximize the space, use small kitchen shelf risers to separate the stacks in half. Risers work well for mugs and cups too. Periodically, it is a good practice to take all the dishes out to access what you have and discard those seldom used. If you find yourself with a mismatched assortment, you might want to splurge on a new set. Consider rewarding your organizational efforts with matching dishes for a reasonable price from Ikea, Target, or your favorite store.
Spices
Relax, you don't need to alphabetize them. Small lazy-Susan type plates work well to have spice jars readily available. The taller jars are best in the middle of the plate. Simply spin the plate to see what you have. Another alternative is to place spice jars or boxes flat in a drawer with horizontal dividers between every couple of rows.
Pantry
Lucky you, to have this extra storage space. Pick up a few right size containers, then label each for large cooking and baking ingredients like sugar, flour, etc. Pour the contents of those awkward bags into the containers. They will stay fresh longer and be much easier to handle. A pantry is also a great place to keep bulky paper products and canned goods, all similar items grouped together, of course.
The Fridge
Do a bit of refrigerator reconnaissance occasionally by removing everything. After doing a hardy cleaning, group similar items together. Put condiments all together in a door compartment and do the same with salad dressings. Then place labels on each section. Do the same with the crisper drawers, one for fruits and one for veggies. These labels will help you stay organized and urge your family or housemates to do the same. The smaller lazy-Susan plates mentioned in the Spices section (above) are slick in the fridge as well. Group all the pickles together or put all your different flavored yogurts on a spinning plate for quick and easy viewing. As for the freezer, also group similar items: meats and entrees, vegetables, fruits, treats, etc. all together in their own section.
Remember, the skilled team of Professional Organizers at SolutionForYou can help organize your kitchen or your entire home.

We are only an email or phone call away: anne [at] solutionsforyou [dot] com (503) 706-3502.