What is Virtual Organizing and How Does it Work?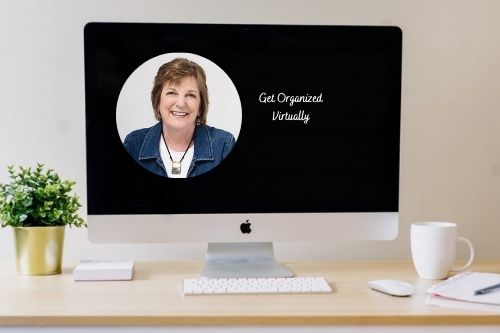 What is virtual organizing?
Virtual organizing is a process for getting organized through the use of telephone, email, photographs, Zoom Video Conference, FaceTime, or other technology.
The primary difference between on-site organizing and virtual organizing is clients don't have our hands to help you move and sort your items.
"Our expertise, your hands."
It can be an accompaniment to the traditional organizing format or an alternative to on-site organizing assistance.
It is collaborative—both the client and professional organizer develop a plan to achieve the desired outcome based on the initial assessment.
Why virtual organizing instead of hands-on organizing?
For some people, access to an on-site professional is either limited or not possible due to a variety of factors, regardless of need.  There is also a large population that is better able to succeed through organizing virtually over the physical presence of another person.  Due to our current economic and pandemic times, we realize that the "gap" is widening, making access to professional help more challenging for both the client and professional organizer.  What I have discovered is that for many people, virtual organizing can have the same beneficial outcomes as on-site sessions in terms of skill transfer and long-term organizing success.
What are the benefits of Virtual Organizing versus hands-on organizing?
Virtual organizing is sometimes more comfortable for the client rather than having the professional organizer present in their environment.
Virtual organizing fees are often lower than hands-on organizing fees.
Sessions are shorter in duration, so they are more manageable to fit them into your schedule.
By doing the work with your own hands and more on your own, rather than the professional organizer doing the work for you, you will be learning and applying organizing skills.
There are no geographical boundaries.
How does it work?
The client walks the professional organizer through their space virtually and discusses their goals, strengths, and challenges.
The professional organizer prepares a plan tailored for you to make a difference in your space and with your systems.
To ensure a successful outcome, in-between sessions, the client completes organizing tasks that the professional organizer assigns.
The professional organizer instructs organizing sessions while the client supplies the physical work. The client will be learning and applying organizing skills during each session.
At each session, we review your progress and achievements, and, if necessary, troubleshoot any roadblocks you experienced.