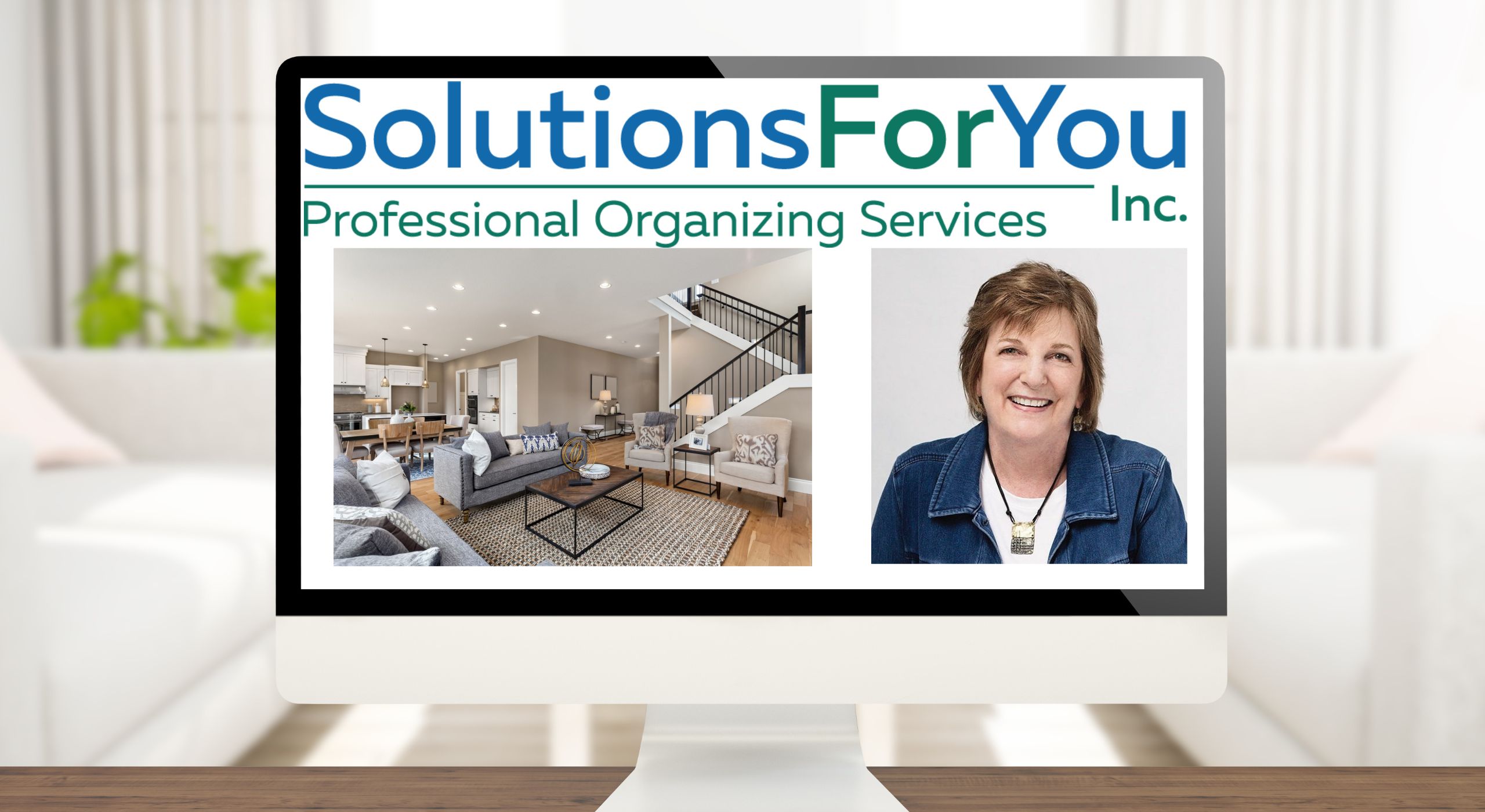 Welcome, we are glad you are here!
Professional Organizing
Virtual Services
from Portland, Oregon
503.706.3502
If getting organized feels impossible,
if the way you constantly lose things embarrasses you,
or the mountain of stuff around you is just too chaotic to handle alone,
you're in the right place.
We help families and individuals ready to make a change at home,
small business owners overwhelmed by digital information and paperwork,
boomers downsizing into smaller environments, and
people challenged by disorganization due to ADHD and other brain-based conditions.
SolutionsForYou's proven 5 Steps to Organizing® process
makes getting and staying organized simple and sustainable.
Meet Anne Blumer
Certified Professional Organizer®
Certified Virtual Professional Organizer™
Whether you have experienced trauma, have mental health or neurological challenges, or are overwhelmed, it is not uncommon for your life to unravel and your environment to get disorganized.  Anne's great passion is bringing organizing and productivity solutions that work for your organizing challenges.
Clients describe Anne as "having a calm presence and non-judgmental." She will help you downsize the stress and stuff in your life gently, at your pace.
Anne will help you to find organizing solutions and systems that support your way of thinking and processing and create a functional environment where you can thrive.
Learn more about Anne.
Client Raves
"It's amazing; my bonus room is no longer a chaotic catchall. It is now a clutter-free zone creativity center where I can work on my photo albums, plan my holiday activities, wrap gifts, and enjoy a good book. I am so appreciative of Anne, and I can't say that enough. She coached me through the entire process. I feel so much calmer now that everything has a home. You, Anne, not only cleared the clutter from my home, you cleared the clutter in my head. I have ADD, and this is a freedom I've never felt. On top of all that I feel so much lighter - I feel like I have lost 50 lbs!! Thanks a million for your help Anne, you have made me so happy, and you are worth every penny". Angela Coel
"Anne made all the arrangements with the movers to pack and move our belongings to The Springs. Anne and her team unpacked, organized and placed everything in our new home. We simply walked in and began our new life. I highly recommend SolutionsForYou for downsizing and senior move management." Priscilla E.
"I can't believe we got so much accomplished in such a short amount of time! I thought it would take days!!" Now we have a garage that makes sense and we BOTH understand where things belong so now things won't get mixed up." Kristi W.
"Anne Blumer is a professional's professional. She is serious about her work but adds humor and lightness to the task at hand." "Honestly, it is hard to say which idea helped the most. All of Anne's ideas worked in concert with each other. However, I would choose, putting my to-do items in folders. The best part for me is when I travel, I just grab my folders and I have all of my to-do items with me in seconds. Love it!"   Renee LaFrance
"Anne bravely came into my home and helped me organize my art studio, household files, and time management. It felt like a tremendous weight had been lifted when we finished. I now know where everything is and I know I don't need to go shopping for art materials for a very long time! Anne provides straightforward advice, really moves projects along, and makes organizing fun!" Patty Barker
"I can't believe how quickly and easily Anne came in and transformed my space into an inviting and workable environment. It feels so good to be catching up on all of the memory books I have wanted to create before Anne came in and worked her magic." Julianne
My garage was not usable.  It was crowded with heaps of boxes that had remained sealed and stored since my break-up.  The garage had flooded, but I could not bring myself to open the boxes.  I was ashamed to let anyone see it. Just the IDEA of cleaning out the garage had overwhelmed me for years. But I felt calm and efficient once Anne and I began to work together. Anne pitched right in and worked alongside me.  I felt she was interested in me as a person. She did not think less of me because of my disorganized state."  -- Beth Kaye
"Anne, you clearly outlined what to expect and who would do what.  It was a multi-phase project, so having everything outlined was super helpful.  I also greatly appreciated having help and your suggestion of utilizing two students for their practicum worked out great for me.  You were very thoughtful about all the details of the project – planning ahead for the cold weather, having a large dumpster delivered for the demo, boxes for sorting – and even provided lunch.  We exceeded our expectations of getting through all the 20+ years of stuff in my garage.  Too overwhelming for me to do by myself, so your suggestion of having additional help worked out great.  We finished everything with time to spare.  With your vision and clarity of what I needed, wanted and ability to keep us all on task – I am thrilled with my new space.  I now know what tools I have, where to find them and it is all organized and clean.  Thanks so much for all of your help.  I have already recommended you to several other people."  Dianne Lamont
"Anne Blumer, SolutionsForYou, and her team assisted me in preparing for my move to Rose Villa Senior Living.  Prior to my move, they spent weeks helping me to downsize my belongings to what would fit in a much smaller apartment and to get my house ready to sell.  Anne helped me determine what furnishings I could take and where they would fit in the floor plan.  I highly recommend SolutionsForYou for organizing and senior move management." Amy C.
"I was able to work with Anne virtually during COVID 19 to do my seasonal closet switch of Summer and Winter clothes. She gave me valuable tools and suggestions that helped me make several changes from my past procedure, worked with me over the phone, as I showed her what I was doing and how I was proceeding. I was able to rid myself of many items that had been "hanging around" for way too long, items that were no longer useful, and ways to keep things organized and neat." Marcia Solberg
"I am moving from a house where I raised my kids and lived for over 45 years into a small apartment. The idea of what to do with "ALL THE STUFF" was overwhelming and I was exhausted before I started. Luckily I attended one of Anne's workshops. Saved! Anne understands. She's "been there, done that". She helps me prioritize, provides resources and routinely checks in to see how I'm doing. Which - thanks to Anne - is pretty good!" Judy Francis
"Anne is truly amazing at what she does. What a difference a small amount of time with her knowledge can make! I was thoroughly impressed by the process, tips, and information she provided me as I was sorting my closet and hoping to build better habits. The lessons learned from our time together have transferred to other areas and made so many parts of my life feel organized and happier because of it. I cannot wait to work with her again!" Kalin Rooney
"Wow, what a powerful experience! I have lived with such a heavy emotional burden of judgment over my inability to process paper throughout my life. It has followed me for years—on every level. Of course, the physical manifestation of my paper anxiety bogs down my life to no end. And I have felt hopeless and like a failure constantly.
When a flood forced me to confront my piles of paper, I found Anne. And I am so grateful for her lovely intelligent guidance, I could cry. How such a super organized person could have such understanding, compassion, and wisdom for someone who is so dysfunctional with paper organization, is beyond me.
She operates without judgment of me. All compassion and problem-solving. "Wow, another great basket emptied. Yahoo! What a collection you will have." And even though we are on Zoom, she remembers where I'm putting everything, " Oh, that Mazda information, you put that on the floor to your left. Put those papers together."
When we took on organizing my desk (so it could get used!), she asked about the significance of things before we started decluttering. She knew my love of beauty and asked whether I had a more beautiful basket for the Action pile. We tweaked the arrangement of things so there was flow and balance. She then challenged me to fill the rest of the desk with things of comfort and beauty that pulled me into the space. This process was transformative for me.
My own judgment has not disappeared, but I feel supported like never before. And I have a great resource to help me to keep moving forward. I plan on doing monthly check-ins with Anne, so I will remember to advocate for my mental health and have it reflected in my home! Hurray!! Thank you, Anne. 💖" Abbey Vanderbeek